1-Wire to Modbus RTU Convertor (CON1W-M.BUS-S991)
1-Wire is a device communications bus system that provides low-speed (16.3 kbit/s) data, signaling, and power over a single conductor. The basis of 1-Wire® technology is a serial protocol using a single data line plus ground reference for communication.
The sensor network is considered as part of the solution for monitoring the environmental variables of temperature and humidity, therefore, the type of network and their communication protocol play an important role in the complexity of the network and the cost of purchasing implemented sensors. Implementing a sensor communication network based on the 1wire protocol is one of the standard low-cost methods.
The CON-1WM.BUS-S991 Converter is an industrial communication module that, through a microcontroller, converts data collected from a set of 1wire sensors into Modbus RTUs. This converter is robust and modular in design to operate 1WIRE sensors in a industrial controller environment.
The purpose of designing and implementing this converter is to be able to connect a set of sensors in a low voltage bus. For easy connection, 4 network input ports are provided on this converter. For this reason, a set of sensors on these 4 buses can collect data independently. These buses can be used to connect a maximum of 45 temperature sensors and 12 temperature and humidity sensors.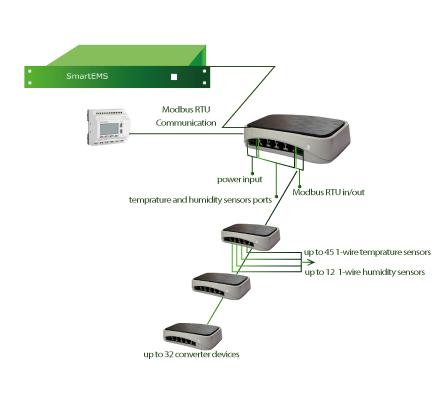 Using this module in data center and server room environments that require a large number of peripheral sensors together has a good performance and can send data to the controller through the RTU output. In other industrial environments, this converter can provide BMS network and PLC controllers with ambient temperature and humidity parameters based on Modbus RTU output.
Converter Specifications
Some of the most important specifications of Coverter as follow:
Input voltage: 24 VDC
Output Signal type: Modbus RTU
Input Port QTY : 4*RJ45, 1*Modbus RTU
Output Port QTY: 1*Modbus RTU
Conf. Port Type: Modbus RTU
Temp QTY: Up to 45 PCs
Humidity & Temp QTY: Up to 12 PCs
Dimension (W * D * H): 140mm * 78mm * 30mm
How to install: inside the shelf, top of the rack
Application: DCIM and BMS systems in data centers, server rooms, greenhouses, poultry, cooling systems and industries
Part number: CON1W-M.BUS-S991
Related Equipments:
Temprature sensor P/N:T1W-S991

Temperature and humidity sensor P/N: TH1W-S991

contact with us for oredering and price with :info@ftsv.ir